Bitcoin Addresses With 0.1 BTC Or Less Have Sharply Risen In Number Recently
According to data from the on-chain analytics firm Santiment, 620,000 new small addresses have appeared on the network since the 20th of last month. The relevant indicator here is the "BTC Supply Distribution," which measures the number of Bitcoin addresses that currently fall inside each wallet group in the market.
The "wallet groups" here refer to ranges that define the number of coins inside wallets falling into a particular group currently holding them. For example, the 10 to 100 coins group includes all BTC addresses holding between 10 and 100 BTC.
If the Supply Distribution is applied on this wallet cohort, then the indicator would tell us the total number of addresses on the network that satisfy this condition.
The wallet group of interest here is the 0 to 0.1 coins band. Here is a chart that shows the trend in the Bitcoin Supply Distribution for this cohort over the last few months: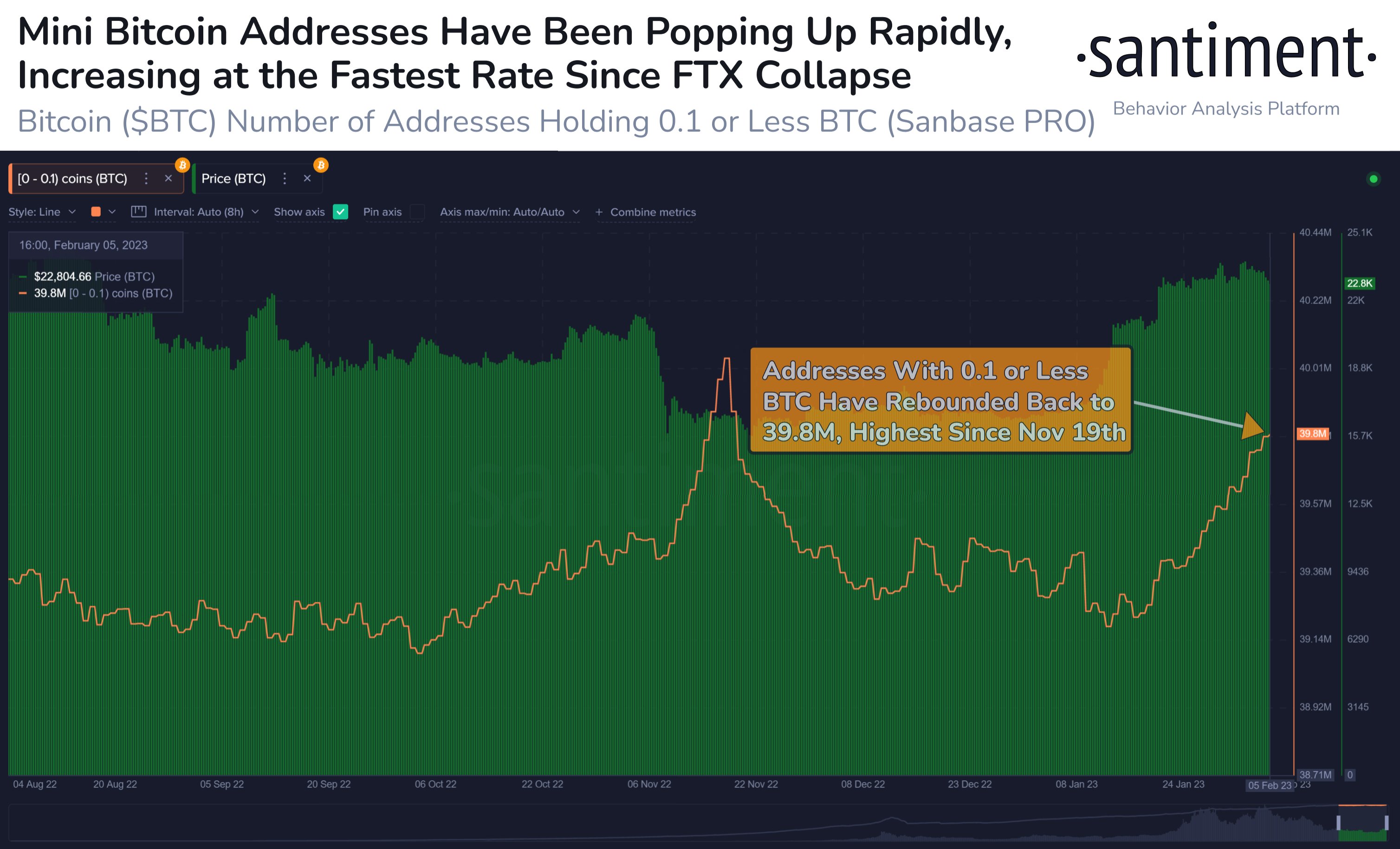 The 0 to 0.1 coins wallet group comprises multiple cohorts (three, to be precise); their data has just been merged to display as one group. The significance behind this range is that it covers all the small investors in the Bitcoin market.
Many such holders are new to the market, so data of this range can tell us about the general interest in the cryptocurrency and whether it's attracting users right now.
As shown in the above graph, the Supply Distribution's value for the 0 to 0.1 coins cohort had been moving sideways during the second half of 2022, showing that there weren't many small investors ushering into the network, likely because of the dull bear market price movement.
In November, following the collapse of crypto exchange FTX, the number of wallets falling into this band finally observed a rapid rise. The volatility due to the crash and the potential bottom probably attracted new investors to the asset.
However, the increase didn't last long, and the metric's value soon sunk back to the average values for the year. Since 2023 has started, though, the indicator has been seeing some fresh growth again.
Around 620,000 new Bitcoin addresses appeared belonging to these small investors since the 13th of January when BTC reclaimed the $20,000 level. This suggests that the latest rally has encouraged new investors to enter the market. Santiment notes that, unlike in 2022, trader optimism has returned to the Bitcoin network this year.
BTC Price
At the time of writing, Bitcoin is trading around $23,000, down 1% in the last week.
Follow JERITEX:

Website: https://jrit.io
Telegram: t.me/jeritex
Telegram: t.me/jeritexasia
Telegram: t.me/jeritexgroup
Twitter: twitter.com/jeritex
Facebook: facebook.com/Jeritex/
YouTube: youtube.com/c/Jeritex
Medium: jeritexexchange.medium.com/
Reddit: reddit.com/r/JeritEX/
CoinMarketCap: coinmarketcap.com/community/profile/JRIT